Executive Coaching
Are you are a successful leader who is keen to continue to grow, develop and increase your impact and legacy?
Read More →
Accelerating Team Performance
Are you a team leader who needs to drive a significant amount of change in your organization or have you have just taken a new team with diverse personalities and backgrounds?
Read More →
Advancing Women Leadership
Are you optimizing the gifts and strengths of your entire workforce? Has innovation stalled due to lack of divergent opinions and point of views?
Read More →
---
Keynotes and Panels
Are you looking for an authentic keynote speaker who engages with her audience in a compelling way that fosters critical thinking and learning? A speaker who knows how to bring to life complex concepts so that the audience internalizes them for long lasting benefits?
Read More →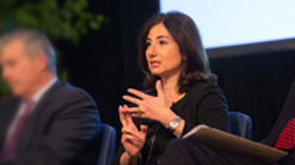 From the Blog
My contribution to the "How to become an awesome manager" Glassdoor article
Here is the article .Too many people become managers without fully choosing this new career path and too many companies use this promotion tool as the only reward mechanism for gifted and high performing individual contributors. These 2 unfortunate realities result too often in unnecessary stress, loss of performance and sometimes permanent demotivation for both managers and their employees. It would be ...
Read More →